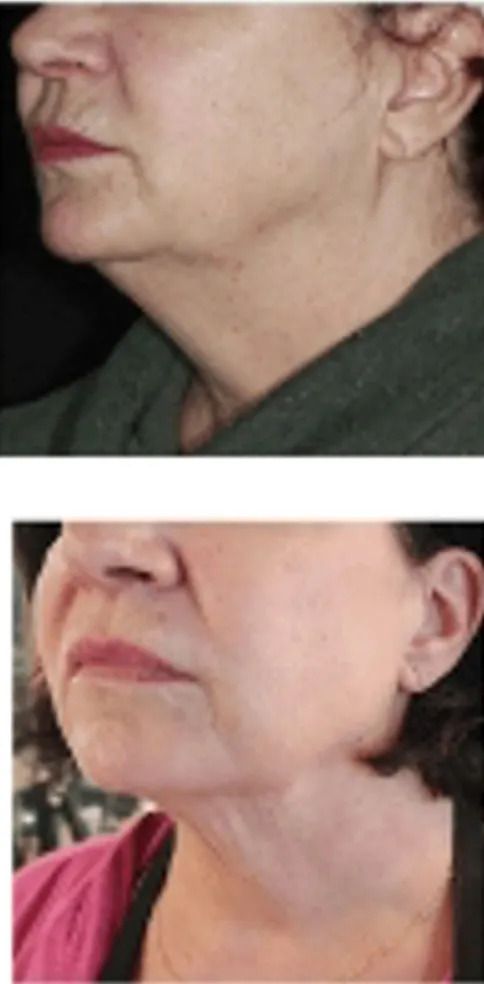 Improve Jawline and shrink neck
Non-Invasive Facial Recontouring With Agnes RF and Scarlet RF
The most exciting anti-aging technology is now approved by the FDA. Introducing the first and only non-invasive facial remodeling device. It thins cheeks, tightens skin, melts fat, and improves jawline definition with minimal down time.
Facial remodeling is one of the most effective ways to achieve a more youthful appearance.

The sister machines are named Agnes RF and Scarlet RF. They use Radiofrequency Heat Energy to melt fat and tighten skin. The three-dimensional remodeling produces fantastic results without any down time.
The jawline is one area that really gives our age away. Gravity keeps pulling us down to the ground which is great for not being stuck on the ceiling but it also has its drawbacks. As our skin ages we lose the structural component, collagen that supports the skin. Losing collagen and sinking fat pads let's our skin fall and droop.
Dermal filler helps for a while but at a certain point you just can't keep adding. It looks odd. I have been looking for the right type of non-surgical fix and I have found it. The machine is called the Agnes RF. The RF stands for radiofrequency heat energy. The RF produces heat that melts fat and shrinks skin. Just what we need on the jawline and double chin.
There is a fat pad near the corners of our mouths and near the jawline that continues to fall producing marionette lines and loss of our jawline.




Treatments are customized and tailored to address your specific needs so the end result is a natural younger looking appearance.

The fat pad not only makes us look older we look fatter. As it falls, it squares the face. The Agnes RF will melt the fat and you will see immediate results. Combining the Agnes RF with its sister machine, the Scarlet RF, produces even more magnificent results. The Scarlet RF is designed to improve skin texture and smooth out fine lines and wrinkles. Working together, you will be refreshed and feel like a new person. That vibrant person that you are- will be looking back at you in the mirror.

The worst areas that show our age are the jowls and the chin area. The skin under the chin loses its elasticity and begins to sag. Agnes and Scarlet targets the fibro-septal network (FSN) delivering radio-frequency Heat Energy (RF) to the subdermal layer shrinking the fibers resulting in tightened skin.  It also tightens skin encouraging the body to produce more collagen. This one procedure alone significantly changes your perceived age into a more youthful look.

Agnes and Scarlet directly address the jowls and chin helping you achieve more defined facial characteristics.



Agnes also has tremendous function for melting fat so it not only tightens skin it also reduces the amount of fat under the dermal layer. The ability to melt fat helps recontour cheeks and chin for anyone. This technology is not just for aging. As mentioned above it is also used to thin and recontour cheeks at any age. Facial recontouring has life changing results improving self-confidence. Patients feel more attractive.

This treatment is recommended for patients seeking non-invasive facial remodeling treatments. Scarlet can improve blood circulation and will provide a natural looking younger facial appearance. It is a safe and effective procedure that can be used on all skin types and skin tones.